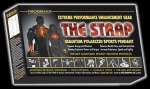 Click for larger image
The Strap - Fizogen
Get ready to experience the Impossible! Enormous increase in maximum power and reps during your workouts, within Seconds of wearing this amazing product plus dramatically enhance your energy, mental focus and endurance levels.

The Strap is simply the most powerful performance enhancement innovation in the history of mankind! The extreme and Instantaneous effect on endurance, strength and mental focus is unlike anything ever to hit the market before! Fizogen has once again kicked down the door of possibilities and introduces the most powerful Unfair Advantage in the history of sports and bodybuilding.

The Strap utilizes specialized quantum physics, geometry and vibration harnessing technologies to help synergize the power of the human body's bio-energy system and allows it to run with optimum performance. Known as chi, or life force, energy flowing through meridian points in some cultures, The Strap technology actually helps to repel interference frequencies that block the free flow of this energy throughout the body. Similar to upping the watts in a light bulb...The Strap may help to instantly and dramatically increase the connectivity, flow and communication of your energy system! Simply place The Strap on your wrist or wear it as a necklace, when exercising or competing, and experience a charge of mental focus, strength and endurance of mind-blowing proportions! You simply can't believe how powerful it is! Words almost can't describe as you will shock and amaze yourself and everyone you know the very first time you train or wear it in the gym!

Perform more reps...acquire more endurance...feel more mental focus...harness more power! Simply destroy your competition and annihilate your previous limitations within seconds of wearing it! It's time to try something new that works...It's time to Get Strapped!

Standard Size:
o Wrist diameter 5 inches to 7 inches
o Neck diameter up to 18 inches max

Package Contains:
o 1 - Quantum Polarized Sports Pendant
o 1 - Adjustable Velcro Wristband
o 1 - Adjustable Leather Necklace
o 1 - High Quality Jewelry Case
o 1 - Product Information Booklet

Directions:
Based on personal preference, THE STRAP may be utilized in two different methodologies for desired effect.

Option A: THE STRAP may be worn continuously as either a necklace or bracelet for long lasting energy and or performance enhancement support. THE STRAP wristband and necklace are very stylish and multiple pendants may be worn simultaneously for enhance results and aesthetic effect.

Option B: As a secondary method of use, and for the most noticeable spikes of energy and consistent intensity of effect, use THE STRAP only prior to training or competition. Wear THE STRAP sports performance jewelry 60-90 minutes prior to activity. Continue to wear the jewelry for the duration of activity and remove 60-90 minutes after completing activity.

Warnings:
This product is not a medical devise.
This product is not intended for use in the diagnosis of disease or other conditions, or in the cure, mitigation, treatment, or prevention of disease. These statements have not been evaluated by the Food and Drug Administration.

Do not use if you have any pre-existing medical condition or are taking any medication.

Do not use if you are pregnant, contemplating pregnancy or lactating.

Not intended for use by children under the age of 18 years of age.

Use in conjunction with a well balanced diet and regular intense exercise program.

Perform THE STRAP tests at your own risk.