Frequently Asked Questions
How can I contact you?
We are located at 2968 Limited Lane N.W., Suite A, Olympia, WA 98502
Our main office number is 360.705.3711
Our toll free number is 800.732.7458
Our fax number is 360.236.0535
You can via e-mail
What methods of payment do you accept?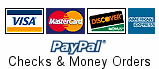 We accept all major credit cards, PayPal, and Checks and Money Orders. We accept American Express, Discover, MasterCard, Visa, checks, and money orders. We also accept Pay Pal payments. Checks and money orders should be made payable to Abundant Health Center, LLC. There is up to a 10 day hold time on all personal checks and money orders sent directly to us. If you choose to use Pay Pal to make a purchase using your checking account then the 10 day hold time does not apply. As a friendly reminder to all of our customers, please do not e-mail us your credit card information. While our on-line shopping cart is safe and secure, sending confidential information through e-mail is not secure.
What shipping methods do you use?
We use the United States Postal Service, United Parcel Service, and Federal Express to ship our packages. Our shipping is based upon your needs. If your package has to be delivered to your house the next day by a certain time then we use FED EX or UPS. Our preferred method of shipping is U.S.P.S. (United States Postal Service) Priority Mail with Delivery Confirmation. If your package does require special shipping needs please contact us in advance so we can figure the proper shipping charges for your item.
How long does shipping take?
Your order is processed within 24 hours of receiving it, unless we receive your order on a weekend or a holiday. If we do receive your order on a weekend or a holiday we will then process your order on our next scheduled business day. Normal delivery time of your purchase is 3-5 business days.
Do you accept international orders?
Due to the ever changing issues that can arise with customs inspections we are no longer able to ship outside of the United States. We truly apologize for any inconvenience.
What are your office hours?
We are open Monday, Wednesday, and Friday from 8:30A.M. – 1:00P.M. / 2:30P.M. - 6:00P.M. and on Tuesday and Thursday from 11:30A.M. – 6:00P.M. Pacific Standard Time. We are closed Saturday, Sunday, and all major holidays.
Do you have a return policy?
Products that are opened, damaged, or tampered with are non-returnable and non-refundable, with no exceptions. All un-opened product must be returned within 30 days of purchase for a full refund (minus shipping and handling charges).
Do you have a Privacy Policy?
Yes, we do have a Privacy Policy.  You can read our Privacy Policy here.
What type of free product are you giving away with every order?
We are giving away a CD. You have two in which to choose from,

and on the checkout page you will be asked which one you would like to receive.
You can choose either...
GET WELL: How To Create Powerful Health
Dr. Schulze says, "If you buy just one thing, THIS CD IS WHERE TO START."
The Strangest Secret: How To Live The Life You Desire
Earl Nightingale says, "If you understand completely what I am gong to tell you, from this moment on, your life will never be the same again."
Electronic purchases do not qualify for a free gift.